Footballbible on Facebook and Twitter get up to date football-related news from the English Premier League, La Liga, Serie A, Bundesliga and other leagues around the World. News from Chelsea, Everton, Arsenal, Manchester United, Manchester City and Liverpool.
On Tuesday, we covered claims from Italy of West ham interest in Dries Mertens, who is coming to the end of his contract with Napoli.
He was said to have recently refused a move to West Ham, despite his wife being 'ready to go to London'. Inter Milan were presented as the likeliest option, and a move would be at the end of the season, with Mertens wanting to continue with Napoli until then.
Arsenal have now been dragged in.
Corriere del Mezzogiorno is a newspaper in the Naples area, and they say offers from the Premier League are 'not lacking'. West Ham get a mention again, with it being repeated the player has snubbed the idea of a move there.
The newspaper claims Arsenal have made an offer, and Mertens and his entourage are currently 'evaluating' that.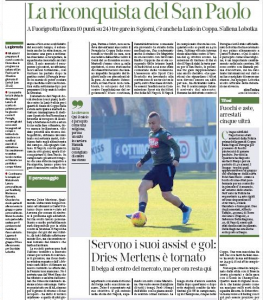 Given that he turns 33 years of age in May and isn't having his best Serie A season, it would be very fortunate for Mertens to have all these offers.
He'll likely be looking at a two year contract, which would be a risk on high wages.
Mikel Arteta will have his own plans for Arsenal, and it would be a surprise if those genuinely include the Napoli player.