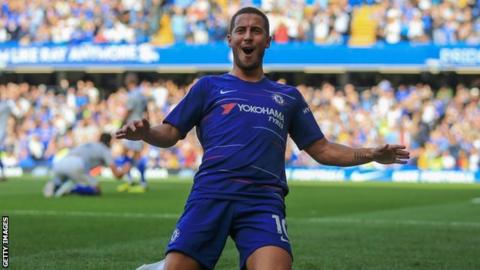 Footballbible on Facebook and Twitter get up to date football-related news from the English Premier League, La Liga, Serie A, Bundesliga and other leagues around the World. News From Chelsea, Everton, Arsenal, Manchester United, Manchester City and Liverpool.
Chelsea summer signing Mateo Kovacic has made a bold statement about Eden Hazard, he revealed he knew the Belgian attacker was good but not so good he can be considered as one of the best in the world.
The Belgium international have found the back of the net five times in his last three games including last week outing to Cardiff where he scored a hat-trick.
And the Croatia international admits his initial prediction over how good the Belgian actually is was wide of the mark.
 "Obviously I knew that he is a great player," the Croatian added. "But now, when I see him playing with us every day, every week, he is just incredible.
"For me, in this moment, one of the three best players in the world.
"I am enjoying with him, with other players, because the team is really amazing, talented, and I think we can do great things this season."
Meanwhile, Chelsea's assistant manager, Gianfranco Zola has said that Hazard still has to improve on his performance.
Zola said the Belgian is still not "at his best" and can continue to improve.
He told Chelsea TV, "Eden is a fantastic player and is getting to have more maturity when he plays so the results are mainly due to his qualities.
"Of course he's the type of player that it can benefit him a lot because you have a lot of the ball, close the opposition's goal and in these conditions, Eden can take a big advantage.
"I think he's still not at his best. The more he plays in and understands the system, he's going to be even more effective.