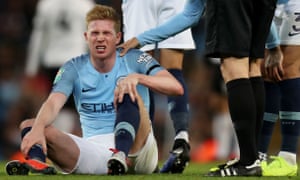 Footballbible on Facebook and Twitter get up to date football-related news from the English Premier League, La Liga, Serie A, Bundesliga and other leagues around the World. News From Chelsea, Everton, Arsenal, Manchester United, Manchester City and Liverpool.
Manchester United have been handed a massive boost ahead of Manchester derby as City will be without Kevin De Bruyne who has been ruled out of six weeks due to a ligament problems.
The 27-year-old sustained the injury in the 86th minute of Thursday night'sn2-0 Carabao Cup win over Fulham.
The game was only De Bruyne's second start following a three-month absence because of ligament damage to his right knee.
In January 2016 De Bruyne also seriously injured his right knee and ankle ligaments.
De Bruyne missed 10 matches with a knee ligament injury earlier this season, though that was his right knee and on Thursday he appears to have injured his left.
After the match Guardiola told reporters that the club's medical staff would carry out further tests.
"We do not know if it is nothing or something serious," he said.
If City's prognosis is correct De Bruyne could return to face Chelsea on 8 December. Guardiola hopes by then City may have already secured passage to the last 16 of the Champions League.
"Hopefully we'll be in the knockout [stage] when he comes back. That will help us in the last part of the season – that he will be fresh and help us to reach our targets. He will be treated by Dr Cugat [in Barcelona] and he'll be treated here. He'll be in a really good place to deal with the problem."