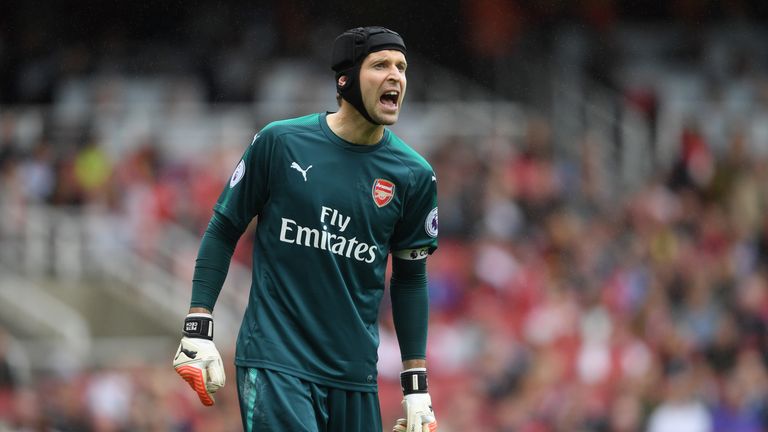 Footballbible on Facebook and Twitter get up to date football-related news from the English Premier League, La Liga, Serie A, Bundesliga and other leagues around the World. News From Chelsea, Everton, Arsenal, Manchester United, Manchester City and Liverpool.
Arsenal number 1 goalie Petr Cech broke silence earlier this week regarding the criticism he has received so far this season.
Unai Emery has retained the former Chelsea goal stopper as his preferred goalkeeper despite signing Bernd Leno from Bayern Leverkusen over the summer.
The spotlight has been on Cech following a series of errors while trying to play out from the back during the early weeks of the campaign, errors which has almost proved costly for Unai Emery's side.
But Cech spoke to Sky Sports and said he believed the criticism was somewhat harsh.
"Everyone picked up on two passes against Manchester City and Cardiff," he said. "Obviously, from that number of passes you can make a mistake. I try not to make a mistake. That's clear and obvious.
"You want to use the goalkeeper as an advantage as a spare man. I am not happy with these two passes. We got away with it at Cardiff but I think my overall game has been strong.
"I'm lucky nothing bad happened. I know that everyone will be waiting for the next mistake and trying to put more pressure but that's the way it goes. Playing in goal in the Premier League you play with lots of pressure."
However, Cech has come under heavy criticism after Saturday's game against Newcastle United with the Czech Republic international goalkeeper running into trouble with the ball at his feet.
Some fans took to Twitter to express their anger with some fans going as far as tagging Cech as "liability" after his performance on Saturday.
Cech is awful ar passing out from the back a liability in my book

— kevin wright (@masumba1) September 15, 2018

With each passing game Cech game is becoming even more concerning. Its time we started Leno #Arsenal #NEWARS

— Sachin Checker (@Sachzzz) September 15, 2018

Why do we keep on playing Cech at the back? He clearly can't play with his feet.

— David Bushay (@MrBooshay) September 15, 2018

Still baffled by why he keeps starting Cech. He can't play out from the back.

— General Waste (@oscargbuzz) September 15, 2018

Cech making a mistake trying to pass . Water is wet .

— maeströz III / III (@maestrozil_) September 15, 2018